By Bayram Kont | Executive Consultant
The wave of job turnover, known as "The Great Resignation," results in a considerable skills scarcity in the job market. Boosted by the pandemic and the resulting workplace changes, this wave sets out, affecting some tech workers more than others. We advise you to look at this insight to learn further about the great resignation phenomenon for IT talents. 
In today's business world, where digital penetration is accelerating, one of the significant challenges for employers is to retain qualified IT talents and motivate them for productive business outcomes. Because replacing left talent is a much more costly process. According to a survey conducted by Talent LMS and Workable, 72% of employees working in tech / IT roles are thinking of quitting their job in the next 12 months in the USA. These quitting figures are significantly higher than the 55% rate of the overall US workforce.
In this article, we mostly summarize and evaluate the results of a survey conducted by Talent LMS and Workable with 1200 technology employees in September 2021.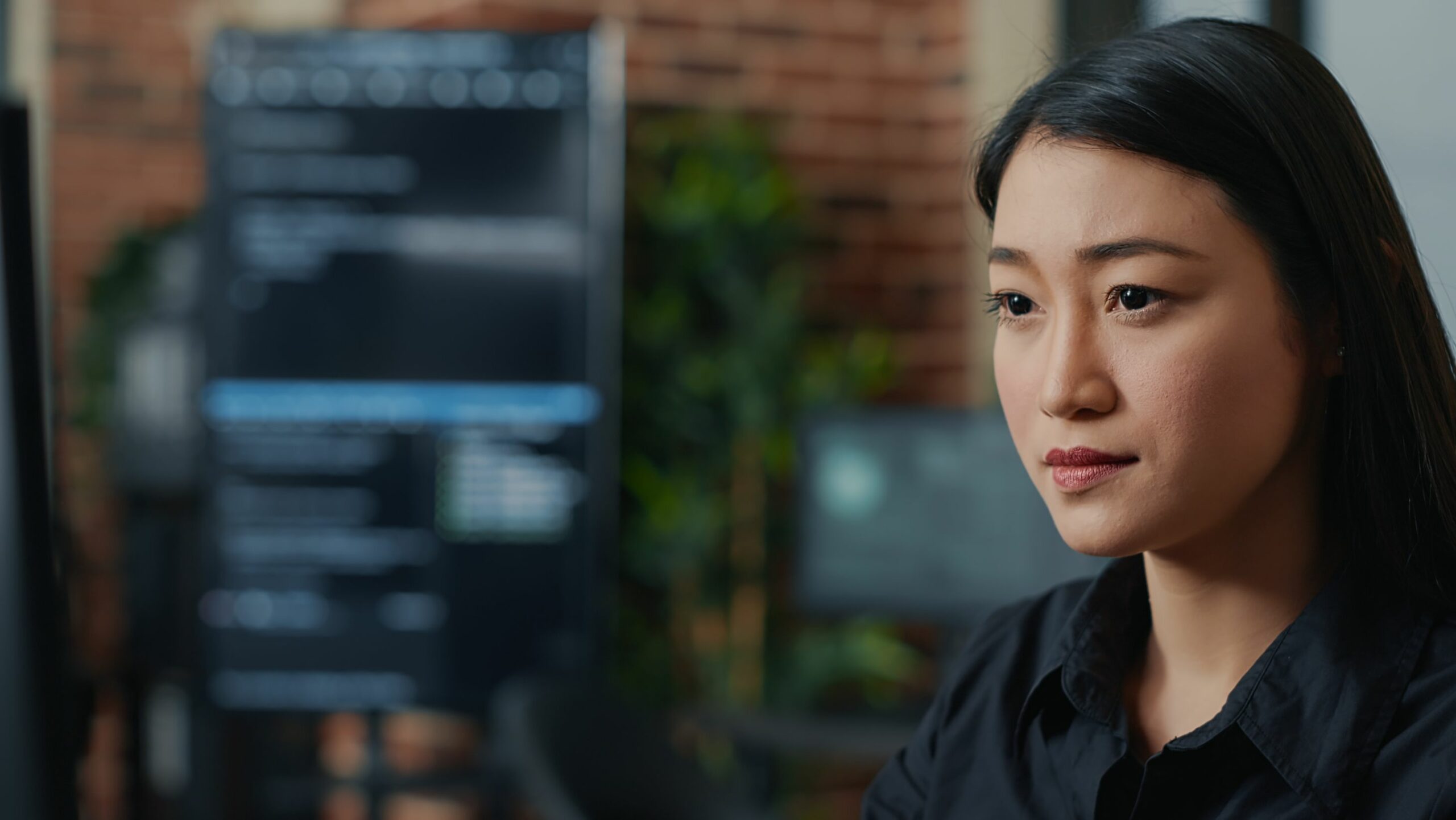 Why are tech talents leaving their jobs?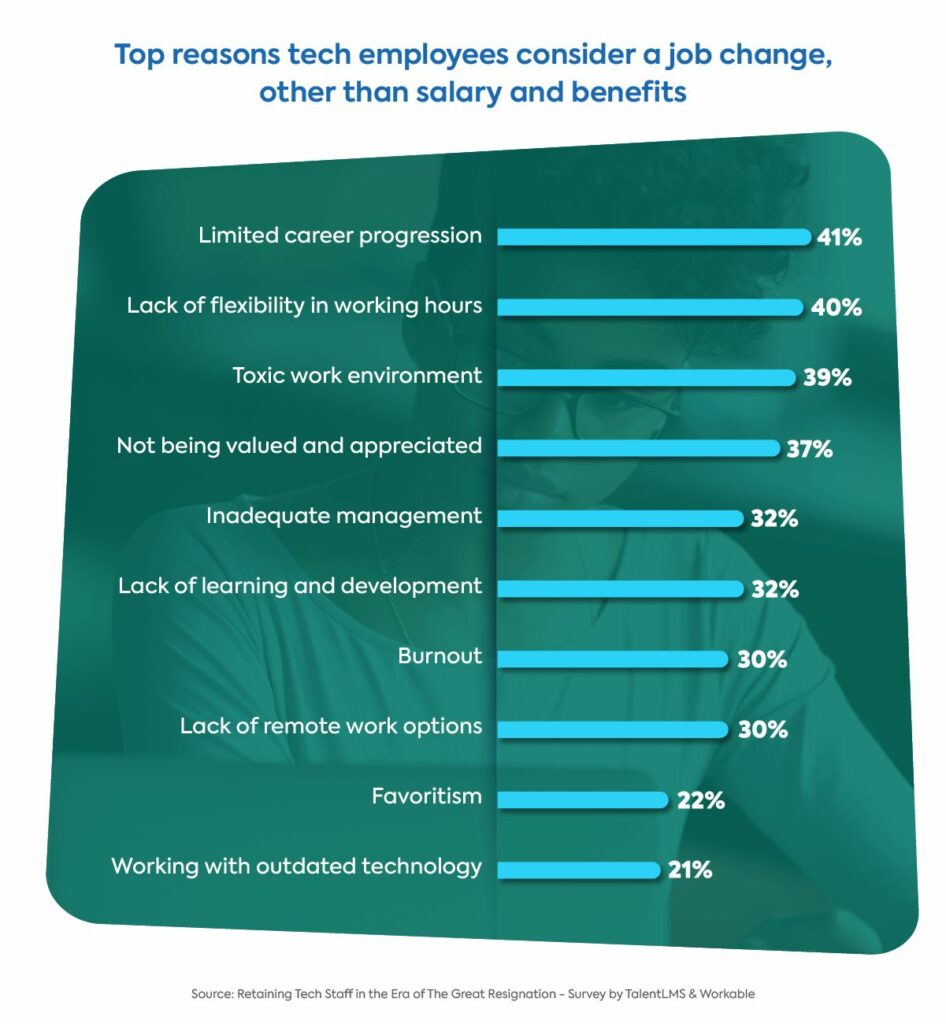 The survey respondents were asked about the underlying factors that most affected they're leaving the job, apart from salary and benefits. 41% of them declared that they would leave their jobs because their companies do not deliver the opportunities for their career progression. Two of the other top reasons tech employees consider a job change are respectively the lack of flexible working hours and a toxic work environment.
What matters most when selecting a job?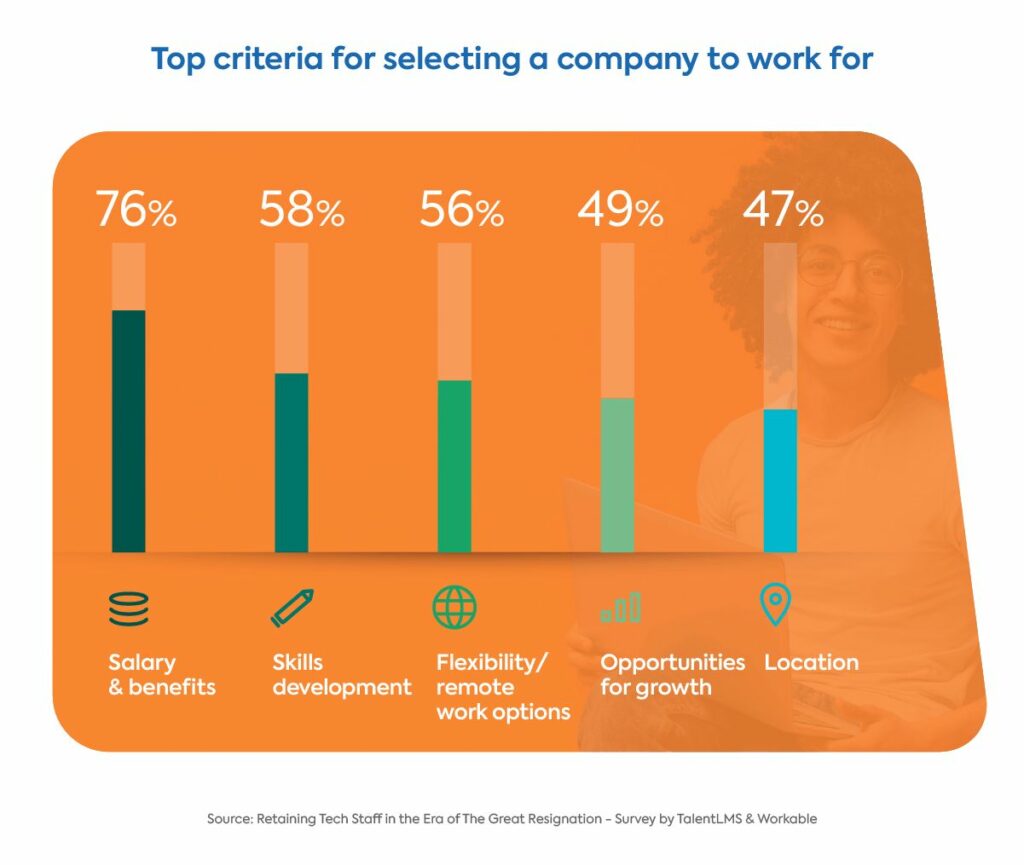 The option of salary & benefits is the top priority for all incomes and age groups. Skills development and flexibility in working hours are the other top factors for selecting a company.
What motivates tech talent?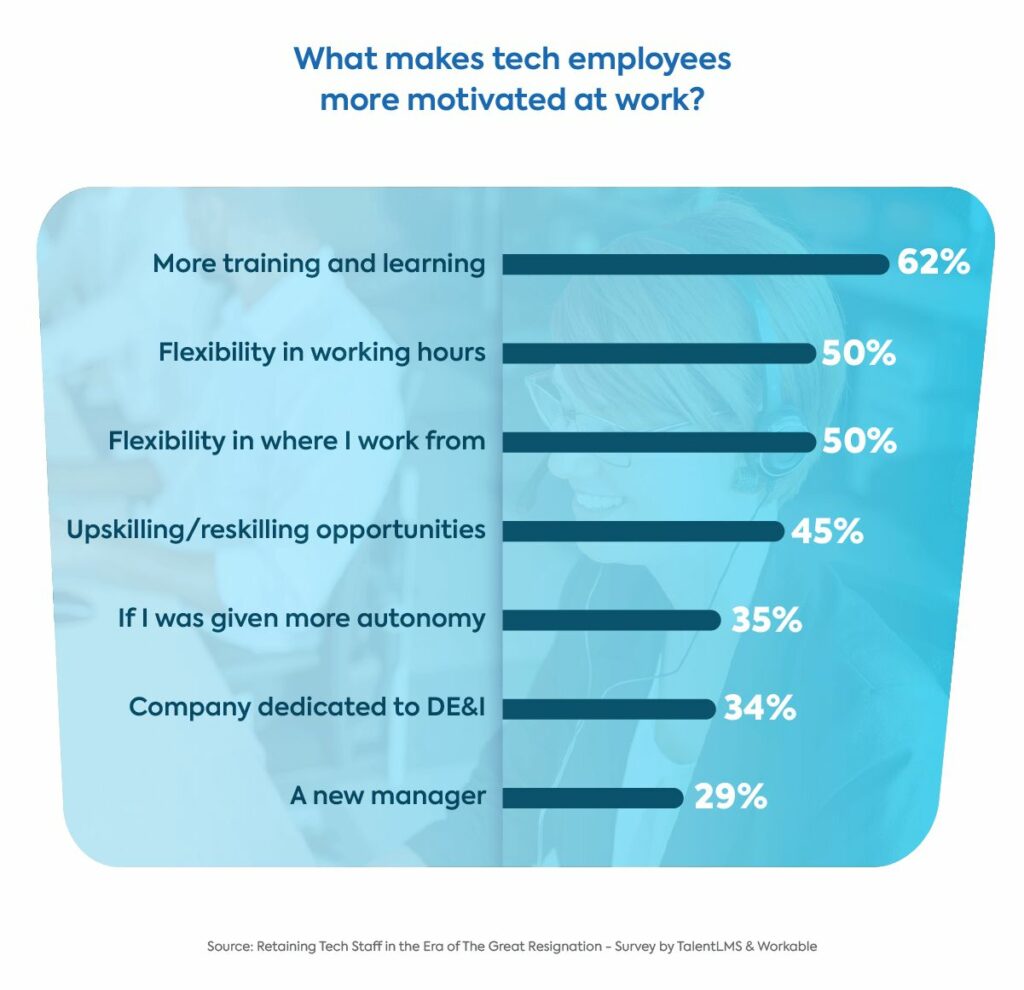 More training – learning and flexible working hours are the primary motivators among tech workers.
The most critical skills for tech talent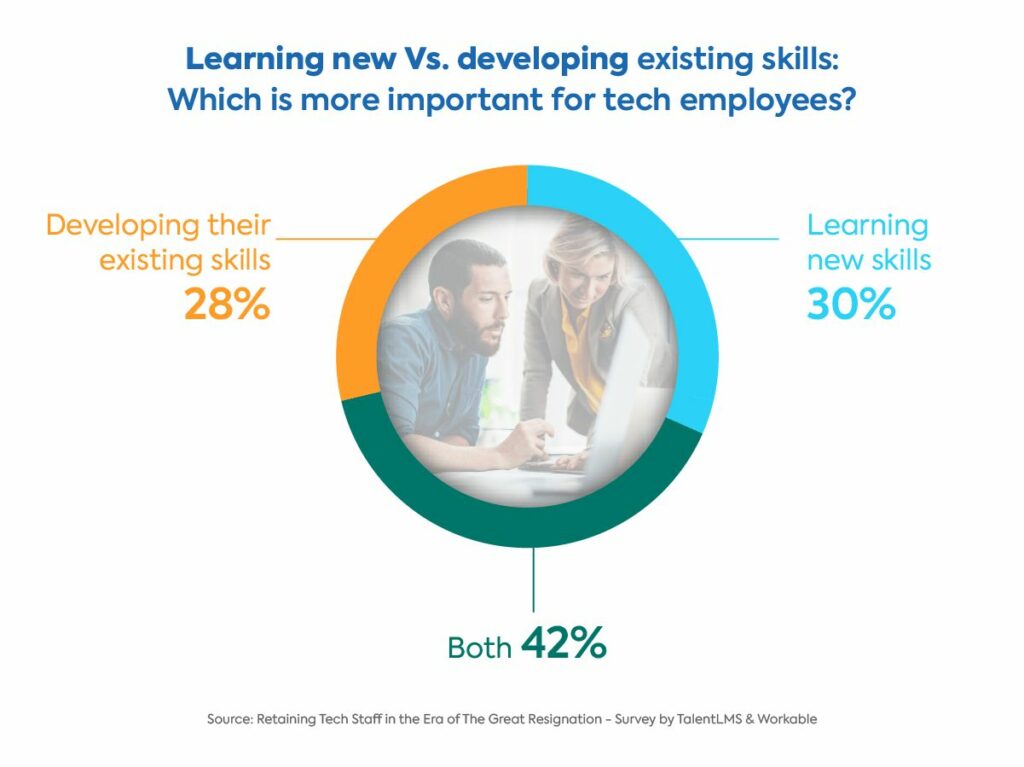 Nearly half of those respondents claim to learn new skills and improve existing skills combined. The demand for IT talents to acquire new talents makes sense in today's world, where technological developments are progressing rapidly.
The most demanded skills by tech talent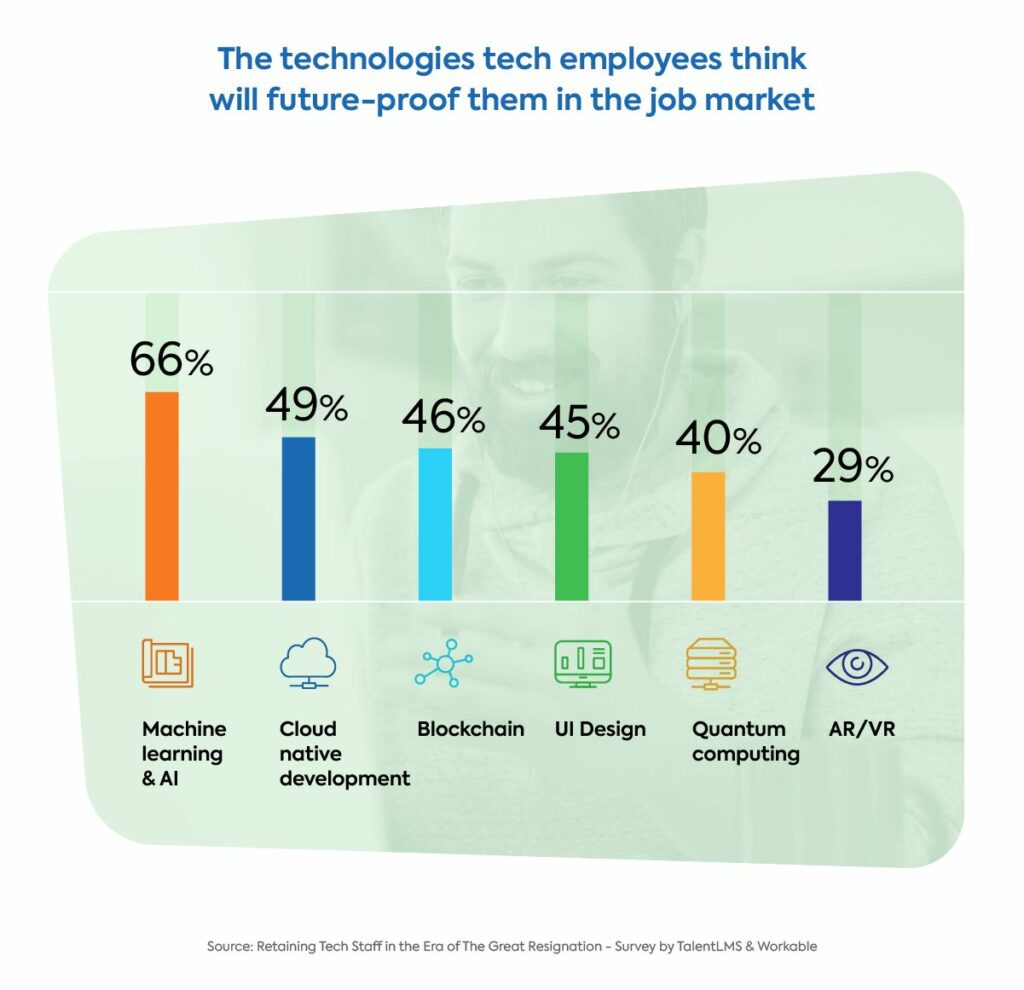 2 out of 3 respondents strikingly chose machine learning and artificial intelligence as their most-demanded skills. Cloud native development, blockchain, and UI design are also demanded skills for nearly half the respondents.
When are tech talents most productive?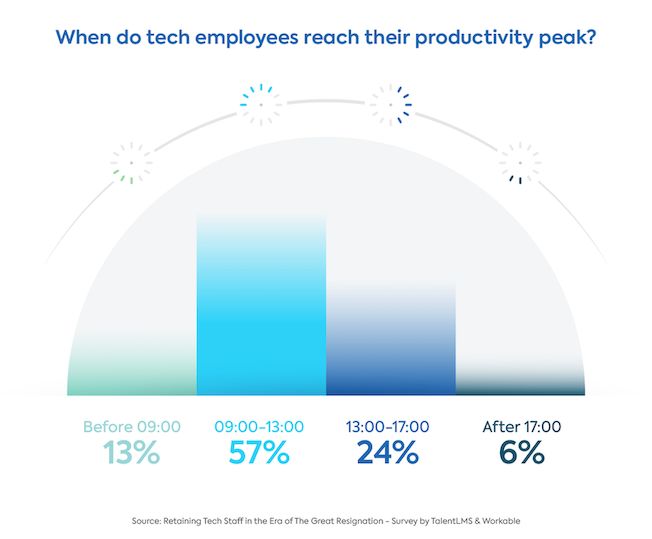 Managers need to know the most productive working hours of tech employees. In this way, they plan meeting times and other activities, avoiding interfering with the workflow of their employees at the most productive times. More than half of the respondents said they feel more productive between 9 a.m. to 1 p.m.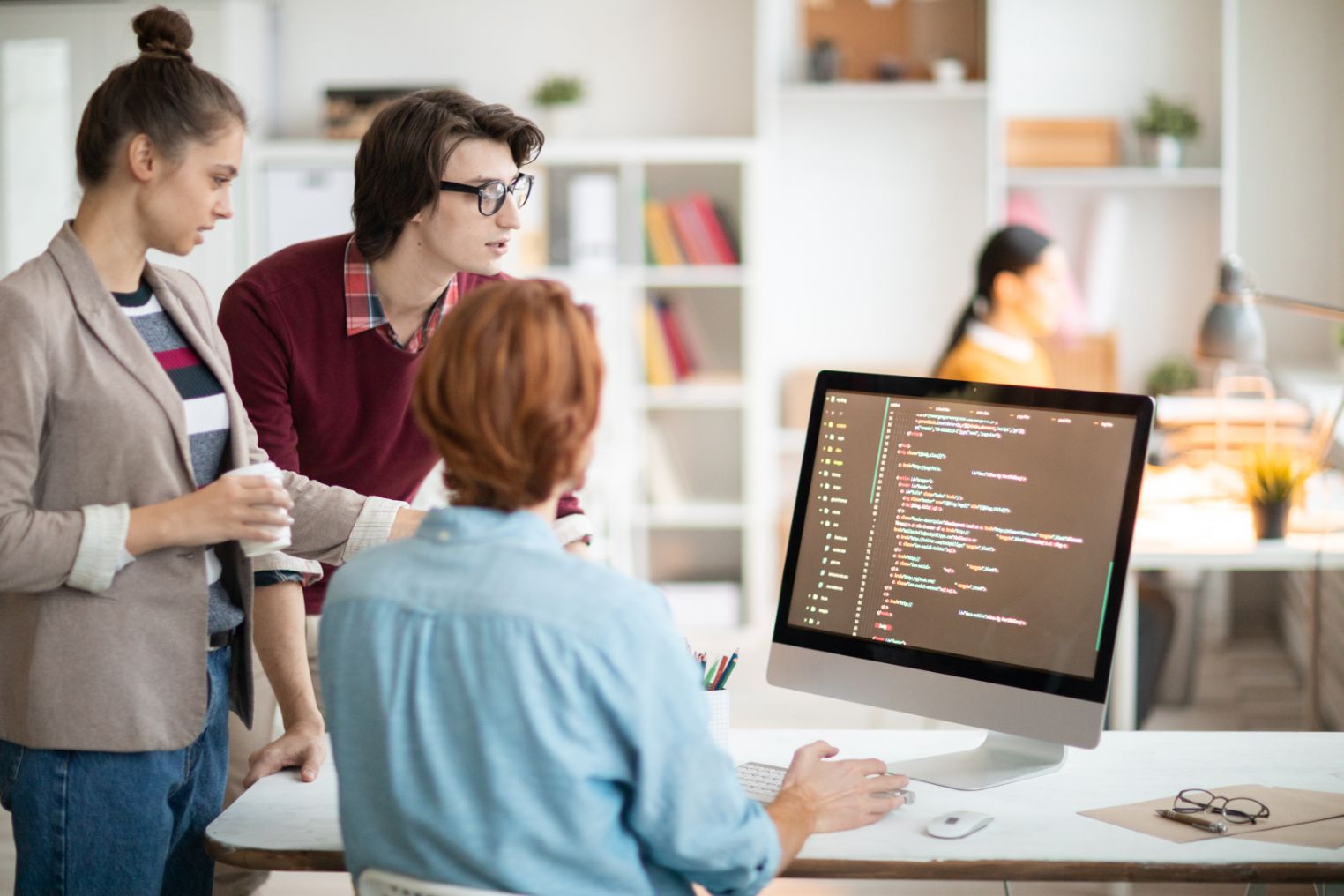 How can employers retain tech talents at work?
As employers, you must create an attractive work environment to motivate IT talents, enable them to work efficiently, and retain them at work. This workplace environment should include the following in summary:
1) Offer attractive and above-average salary – benefits
2) Make better options for learning new skills and development. 
3) Keep constantly learning and training activities
4) Create career progression opportunities
5) Become flexible in location, schedule, and management style
6) Provide remote working options, at least hybrid working models
7) Offer a better work-life balance
8) Build a peaceful and healthy working environment
9) Nurture your existing employees and show them your appreciation while making efforts to attract new talents
References:
Survey: Retaining Tech Employees in the Era of The Great Resignation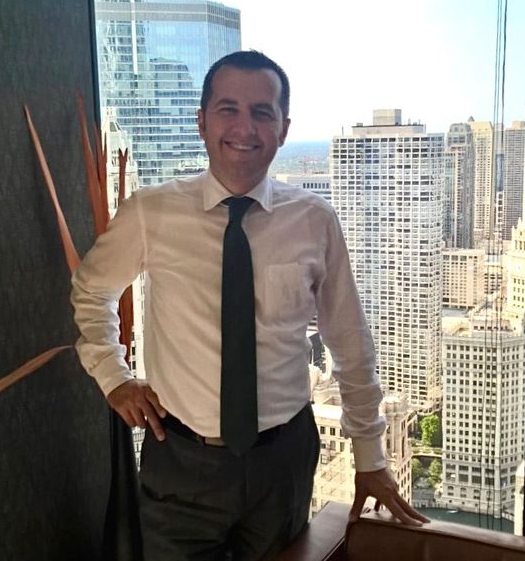 Need to recruit best tech talent?
Please feel free to book a free meeting with our CEO. Let's explore the new business opportunities and tailored recruitment solutions your company needs.